Fresh, Delicious, & Baked With Love.
Fresh, Delicious, & Baked With Love.
Fresh, Delicious, & Baked With Love.
Fresh, Delicious, & Baked With Love.
Fresh, Delicious, & Baked With Love.
Sweet Treats To Feed Your Soul
Treat yourself to the sensations hidden inside pockets of chewy, mounds of gooey, and surprises of intense flavor – all stuffed into a delicate golden-brown crust. 
Fresh Ingredients, Unique Recipes
From top-shelf chocolates to wild blueberries, our founder, Arezou, sources quality ingredients and dreams up decadent recipes for your savoring pleasure.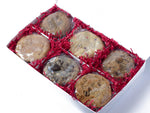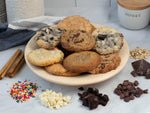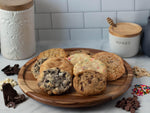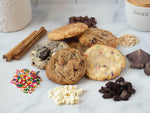 Single Dozen Has 2 Gooie, 2 Brown Butter Chocolate Chip, 2 Panda, 2 Birthday, 1 Snickerdoodle, 1 Chewie, 1 Walnut Gooie...
Learn more
We Care That Our Ingredients Are Good For Your Body.
Sourcing quality ingredients is vital to the flavor of each cookie and your health. That's why we use cage-free eggs and hormone-free butter, without rBST. We refuse to use shortening, hydrogenated oils, lard, or preservatives.
Liquid Gold Vanilla
We use the best tasting vanilla, Nielsen Massey's Madagascar Bourbon Pure Extract. It has sweet, creamy, mellow, velvety after-tones, with more than 250 distinctive flavor compounds.
Chocolate Depth Creations
We combine the best chips from Ghirardelli and carve chunks from a giant Callebaut Dark Chocolate bar so you can experience the kaleidoscope of chocolate's flavor-spectrum in every bite. 
Vegan, Paleo, and Gluten-Free Options
We understand that everyone is different and has different needs. Our vegan, paleo and gluten free recipes are lush and moist in the center, with crispy edges, and full of deep flavors. We use high quality gluten free flour, almond flour, almond butter, almond milk, coconut oil, grape seed oil, and heaps of nuts.